Different pasts, shared futures
Supported by Big Lottery Awards for All, Dance Woking has been working with a number of community groups and schools to explore the idea of home. During the evening five of the groups shared their experiences using dance movement, art, film and food. The funding also enabled us to work with professional dance company Amina Khayyam Dance and share their work with a number of the community groups as well as being able to present an excerpt of their work this evening.
For  programme of evening click onto link: Programme
HORSELL BANGLADESHI WOMEN'S GROUP 'Imparting Through Food'
Working with Amina Khayyam the group have used food to express their home. Taste some delicious homemade dishes made by the Horsell Bangladeshi Women's group – an insight in to the women you see but perhaps do not know.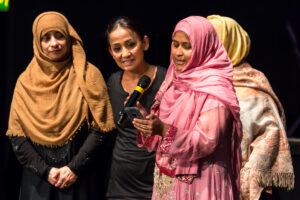 DEVYNE DANCERS 'Searching through the borders'
Exploring the theme of 'Where is Home?', DeVyne Dancers have been looking at the obstacles that can be faced when searching for and building a home, moving around the key themes of border, travel and shelter.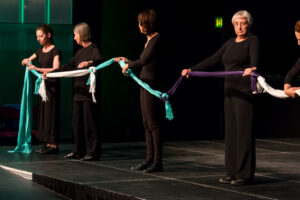 LIAISE WOMEN'S CENTRE ART GROUP AT MAYBURY CENTRE 'Our Colourful Shadows'
As we move, work exercise and dance, we produce shadows…. taking their frozen shadow images and putting them onto a canvas the women then filled their shadow with a collage of images exploring memories and ideas of 'where is home?'
Artists: Talat, Rahat, Sandra, Shahida, Sadia, Samina, Balijeet, Dhanvir, Ishrat
Lead Artist: Maria Lima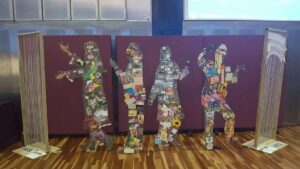 BROCKHILL CREATIVE SEATED DANCE GROUP 'Home'
Using memories to inspire movement sequences the Creative Seated Dance group have choreographed a dance film presenting their exploration of 'Where is Home?'
Dancers: Gwen Hill, Kim Johnson, Derek Lane, Joan Malone, Zoe Nicholson, Jean Pitts, Dot Williams and members of Brockhill Creative Seated Dance
Filmmaker: Omari Carter 'The Motion Dance Collective'
Choreographer: Kate Finegan
For PREVIEW  https://youtu.be/UjVz-PyHbbM
MAYBURY PRIMARY SCHOOL 'Building Homes'
Maybury have created a dance piece in their after-school club exploring the theme of finding and building a home, and working out what can make a house a home.
Dancers: Rishta, Ritika, Gabriella, Swasti, Palistha, Saniea, Simona, Ayesha, Hibba, Aroush, Saira
Choreographer: Emily Neighbour
Overview of the event report by That's Surrey TV