Dance Woking had a fun filled day of action at Lakeview Fun Day on Saturday 12 August supporting the entertainment field bringing community dance, participation and professional dance to the event. Despite the bouts of torrential rain that threatened to disrupt the day, the local community turned out in support of this great event. Featured photo: Mayor of Woking, Cllr M Ilyas Raja
Opening the event and introducing the first community dance group was event organiser Lorraine Golli on behalf of Lakeview Community Action Group (LCAG). Amala, a modern fusion style Bellydance Troupe, delighted the audience with their coordinated outfits and colourful skirts and percussion. Performing an improvised piece they were well received and set the tone for the rest of the day. If you are interested in taking up belly dancing new members for the start of their new season in September are welcome: To find out more enquire HERE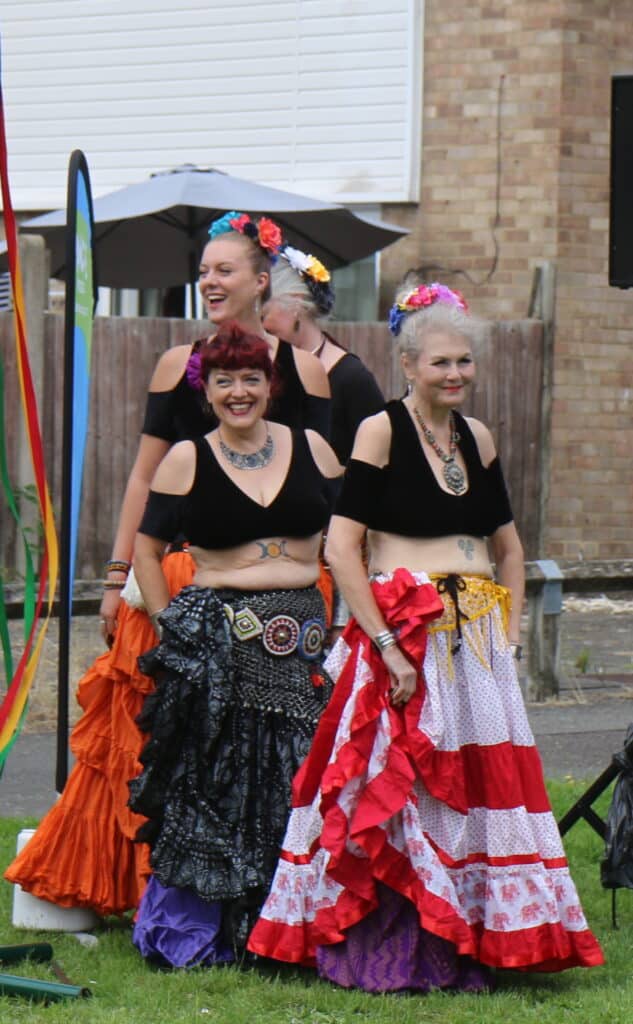 Amala with their modern fusion Bellydance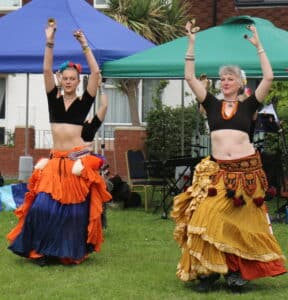 Time for action, Dance Woking's Maypole expert Nicky led the first Maypole dancing workshop of the day, with participants, made up of performers and some willing residents showed off their coordination and dancing skills. Sam McCaffrey, CEO & Artistic Director Dance Woking said, 'We have been working at Lakeview Community Centre for a number of years now including bringing dance to various Youth Groups, including Young Carers. More recently and this summer we have been delivering our Hunky Dory Holiday Dance Club for children aged 8 to 11 years old, supported by funding from Club4 managed by Active Surrey. We have really enjoyed the opportunity to partner with LCAG to bring inspirational dance activity to the local community and join other users of Lakeview Community Centre to highlight the opportunities and support for residents that is available locally'.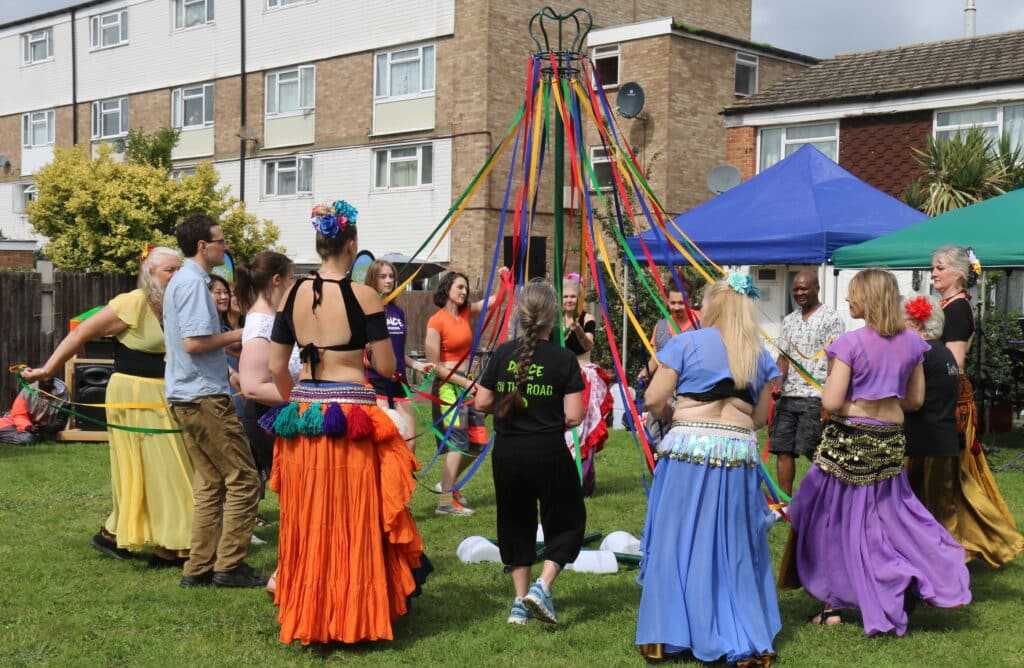 Maypole Dancing with Dance Woking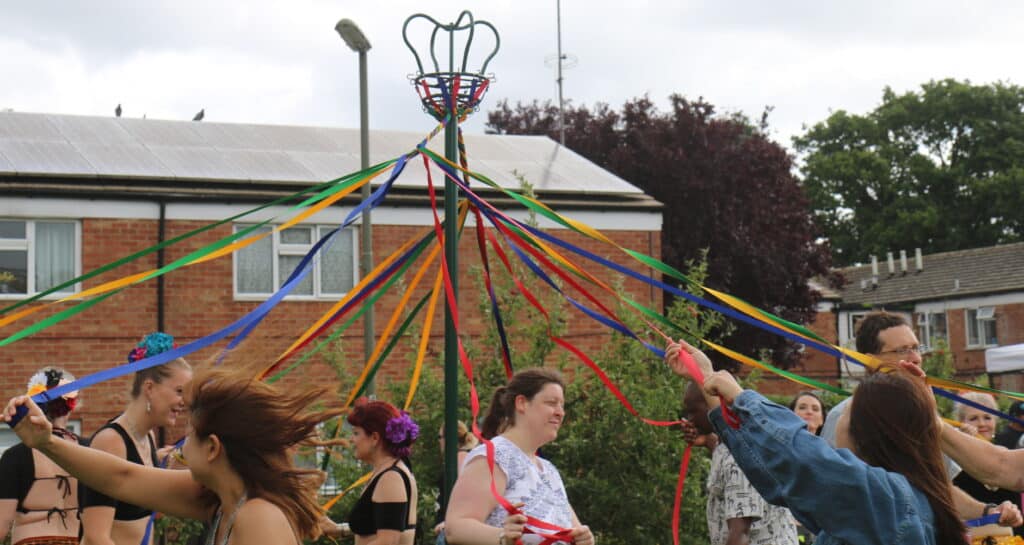 Inbetween the dance platforms highly talented local musicians performed. They hailed from St Andrews Church, Goldsworth Park, music club nights. The morning sessions saw Matt Kitsell & Friends perform followed by Serious Skittle.
MCDC performed their highly acclaimed and entertaining piece 'Fish Out of Water'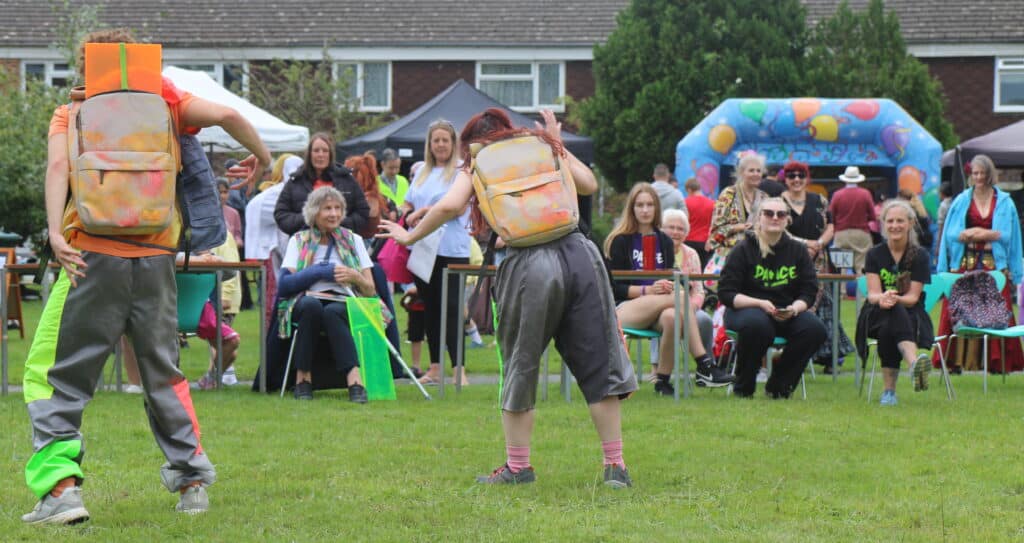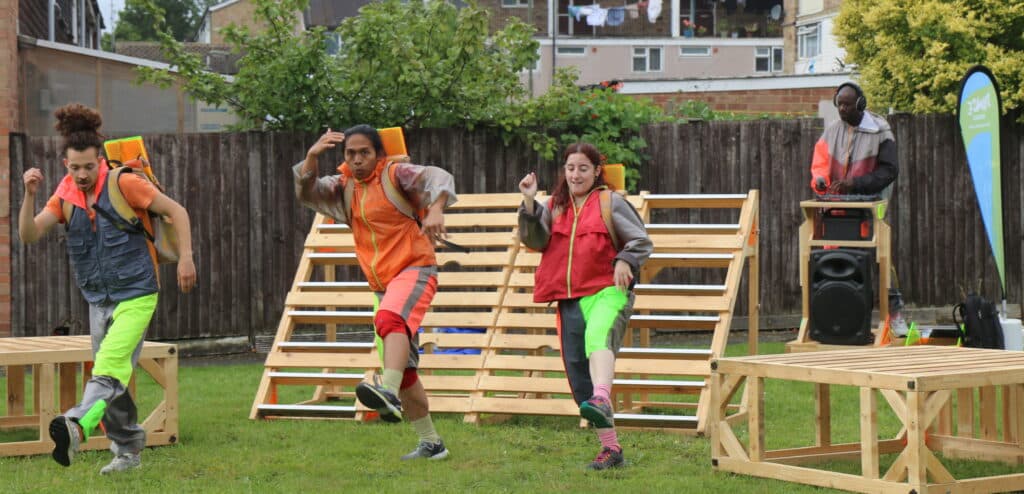 This family-friendly outdoor dance performance used hip hop, interactive sculptures & responsive music to explore themes of belonging, otherness, displacement & migrancy.
Graham Kirby-Smith & friends performed next on music stage followed by Global Grooves, Langton in full African headgear supported by MCDC's wrapper.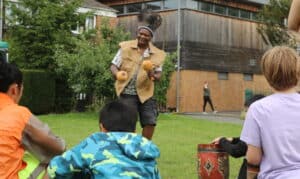 Audience members had the opportunity to join in the performance with African drums and shakers.
Bellytricks, a local belly dance group based in Brookwood, performed to a lively piece of music, entertaining the crowds with their coordinated movement and colourful costumes. If you'd like to try this fun dance form, the group are seeking new members. To find out more enquire HERE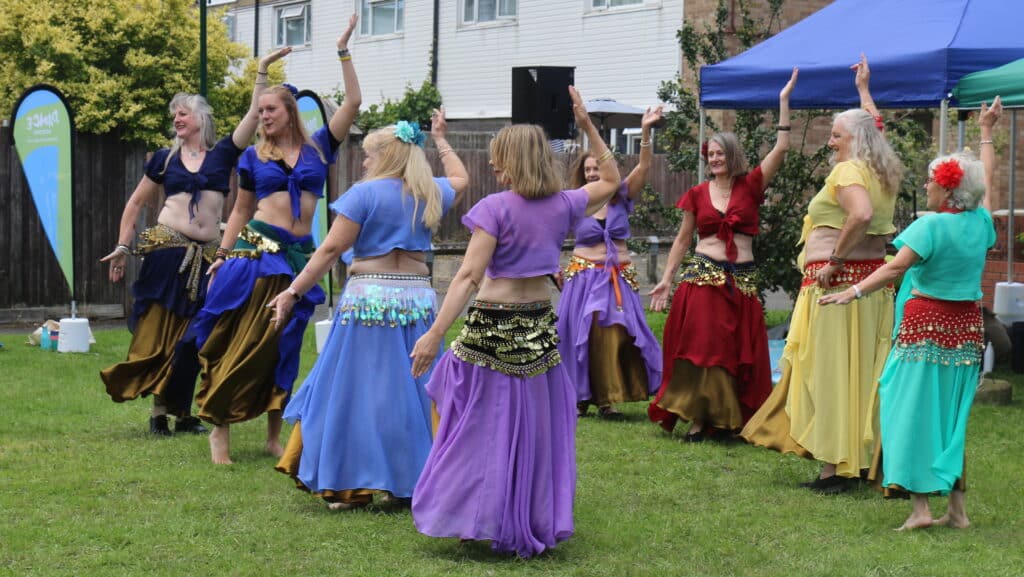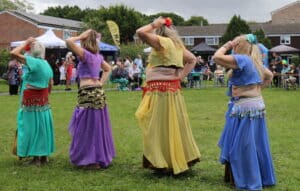 NIcky was back in action with the second Maypole workshop. This time it was an intergenerational affaire, with the sun making a welcome appearance.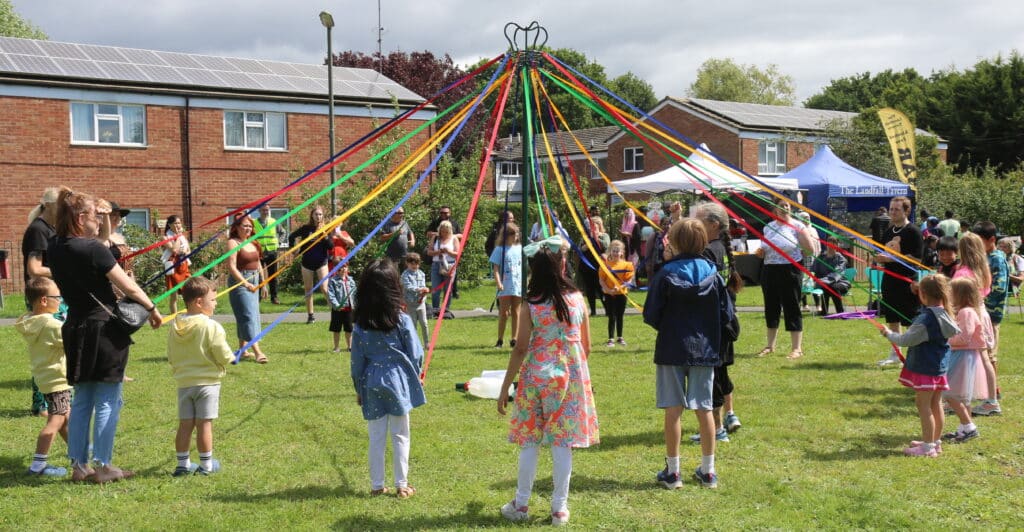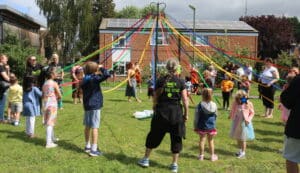 Alex (Spacific) Brown took to the music stage followed the amazing beautiful voice of Jackie Cohen.
MCDC's second performance had a surprising guest, Mayor of Woking, Cllr M Ilyas Raja, join the participation element to the delight of those watching.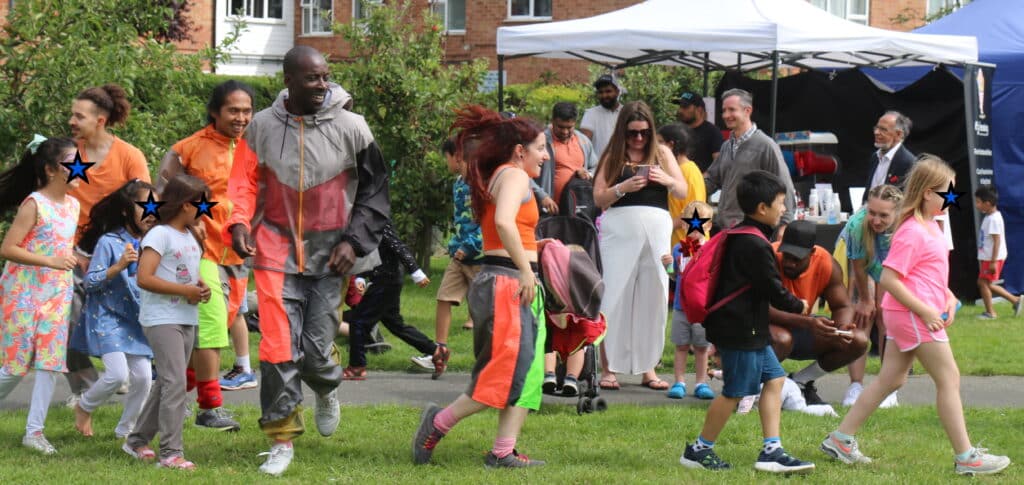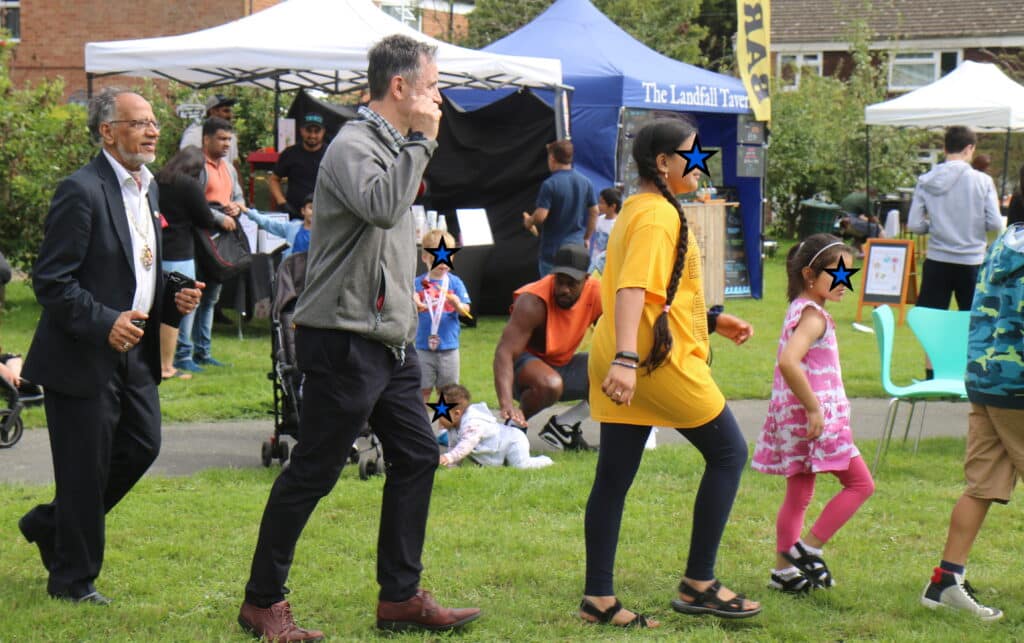 Closing the event, following the grand prize draw (and there were lots of amazing prizes), by Lorraine Golli (LCAG) supported by leader of the Council Cllr Anne-Marie Barker, were highly acclaimed band Cajun Boogaloo. With over 300 local people supporting the event it was a truly great day out. Dance Woking was able to attend the fun day following funding support from Surrey Community Action, Sparks Fund; Arts Council England's Project Grants Fund and Woking Borough Council.
Further elements of the day were captured by Studio Thirteen and can be seen by following this link: Lakeview Community Day (LCAG) by Studio Thirteen Media (pixieset.com)