Dance Surrey Pro & Dance Surrey Directory
Be part of a connected dance community – with Dance Surrey Directory for Dance Schools and Organisations that support the dance industry or Dance Surrey Pro for individual creatives.
Whether you are an organisation or an individual the membership scheme provides a platform for you to highlight what you do as well as professional development opportunities to support, sustain and inspire dancers, artists, teachers and makers. The programme runs annually and includes a variety of opportunities to network and be part of a thriving dance community, with access to Continuous Professional Development (CPD) throughout the year, discounts to classes, workshops and dance performances.
We have just started our monthly Breakfast Briefings which are free to members and give an insight into different experts within the industry including choreographers, brand guru's, online entrepreneurs to name a few.
For More Details: Dance Surrey Directory
For More Details: Dance Surrey PRO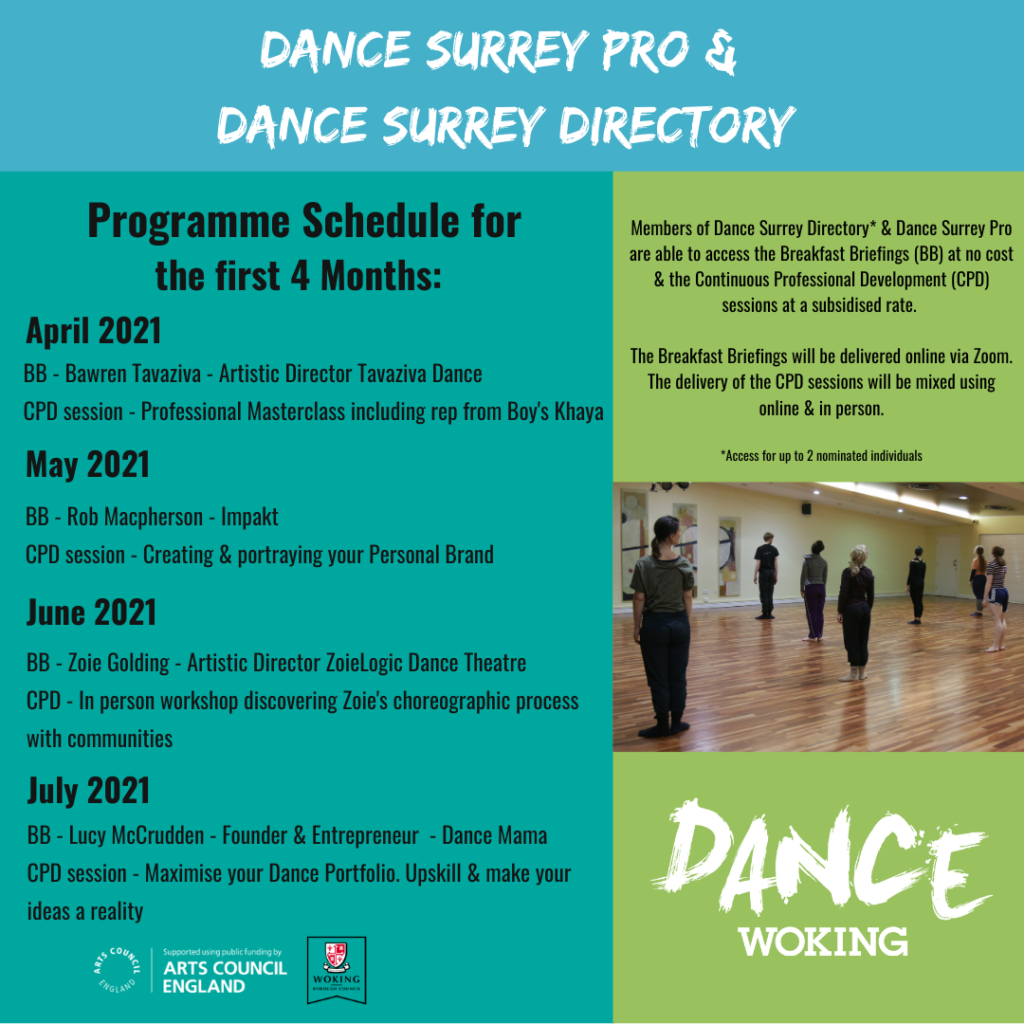 Dance Surrey Dance Directory
ABOUT: The new Dance Surrey Directory will be a comprehensive tool for the wider community to find and access dance activity in Surrey. Dance Schools and organisations with a commitment to dance can be listed with as much information as each would like to share about classes, courses, content and timetables.
The Dance Surrey Directory will enable you to discover dance activity wherever you are in Surrey. To find the dance school for you can simply search for your interests; by style: ballet, tap, modern, contemporary, street etc. or if you're keen to work towards your grades or take part in platforms and competitions. If you need a local school, search for a specific location or even car parking facilities.
Dance Woking will manage the directory, and as part of the re-brand will we be actively marketing the Dance Surrey Directory to increase usage using organic marketing and paid for content on social media.