The Dance Woking team returned in March with the Spring Travelling Tea Dance. Covering six venues over the week, it was our biggest tour yet with residents thrilled to have us returning once again ready to watch, interact and move to celebrate the season.
The event featured a mix of dance performances and participation opportunities, inspired by Spring, as well as nods to Fosse, Cha cha cha and Greek dance! Halfway through the sessions, tea and cake were served and allowed all participants to interact with each other.
Residents were thrilled to have the team visit again with some commenting "This brings back memories. You were a joy to watch" and another remarking "The session today was outstanding. We can't put it into words how valuable it was. We want to book again for Summer and book two please"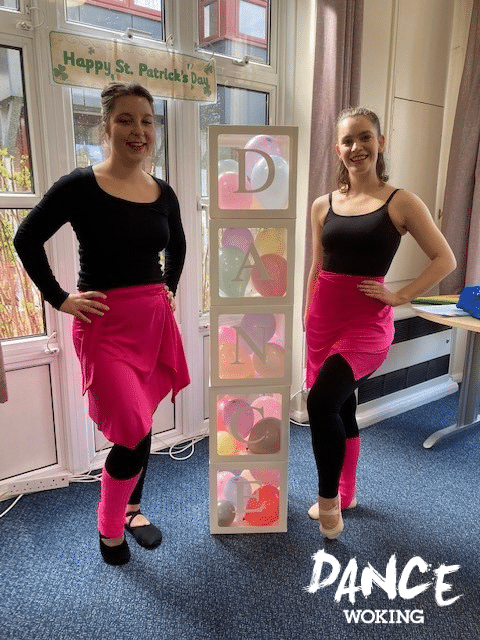 Ellie Dowling, Project Manager and Engagements Manager for Dance Woking said "Over the five tours, we have developed a programme that is fun, playful, nostalgic and inspirational. Most of all it encourages joy through being together and sharing music, movement and memories. Many of the care homes have commented how this seasonal aspect helps to encourage residents to notice the weather, the changes outside, to delve into memories and talk about the themes as well as the dance and music. The Travelling Tea Dance is an essential provision for these venues and we can't wait to continue to develop the tour in the borough."
Thank you so much to the venues and residents that allowed our tour to visit them. We hope they all enjoyed it and can't wait to visit again soon.
This project was made possible thanks to funding support from Woking Borough Council, Shanly Foundation and Arts Council England.
---
We are now in the process of booking venues for out Summer Travelling Tea Dance Tour. If you are a local residential home or community centre that would like us to bring our tour to you this Spring, visit our Travelling Tea Dance Event page for more information or contact us.