As part of our Encounters – Celebrating the Queen's Platinum Jubilee event on 11th June, Folk Dance remixed will be hosting Street Dance the Maypole workshops throughout the day.
Join in the fabulously fun funky social dance Ceilidh Jam and Street Dance the Maypole workshops creating wraps 'n ripples mixed with waves 'n breaks around a contemporary designed, bespoke ribboned, maypole… all to live music with remixed twists!
Street Dance The Maypole will be a chance for all ages to get their hands on the maypole and dance together with a funky street dance routine mixed with folkie maypole moves, such as the Chrysanthemum Wrap and The Ripple. Suitable for 8yrs and up, if younger they must be accompanied by an adult.
Whilst these workshops are FREE to attend we recommend you book your place on the 12.30 or 3.15 workshop. BOOK YOUR PLACE HERE
---
"Street Dance the Maypole was a brilliant visual focal point, filling the space with colours and energy. The teachers were quick to adapt the level of the workshop to the ability of the participants … everyone really enjoyed themselves!" Lina Johansson, Joint Artistic Director of Mimbre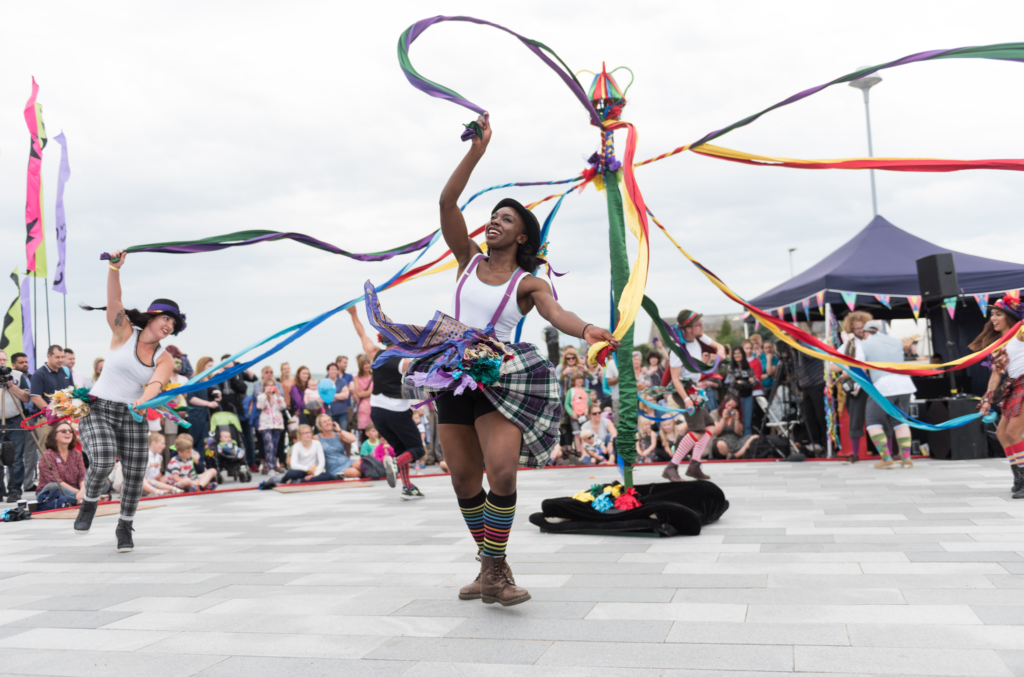 Workshops are for 8yrs+ (unless accompanied by an adult). Workshops will last a max of 30minutes.
---
Folk Dance Remixed are a ground-breaking company creating unique fusions between Folk and Hip Hop styles with live music. Led by Artistic Directors Kerry Fletcher and Natasha Khamjani, the company rediscover old traditions through contemporary forms.
Folk Dance Remixed will also be performing Step Hop House – A fresh, quirky, colourful and magical collision of traditional and Hip Hop dance and music: high-energy, with a unique remix of Maypole, Clogging, Ceilidh, Street, House and Breakdance with a hint of African & Bollywood… to a live soundtrack of fiddle & beat boxing – this is Folk and Street Dance like you've never seen it before!
Folk Dance Remixed takes its inspiration from generating a creative playground to grow new and innovative ideas of mixing folk dance and music of many cultures with contemporary and street dance styles. We are excited by the similarities and differences in hip hop and folk dance; essentially, they have both come from the street and from the people; they both have social aspects and room for self-expression. The resulting synergy has dynamic creative impact and power.
Artistic directors and dance artists Kerry Fletcher and Natasha Khamjani were brought together by East London Dance to explore and create new ideas and concepts using the traditional vocabulary of folk dance expressed through the voice of contemporary street dance styles, and create a current and relevant fusion as a platform for outstanding performance and participation activities.
---
For more information on our event on the 11th June – please visit our Encounters – Celebrating the Queen's Platinum Jubilee event page.