Dance Woking is delighted to be a chosen partner to Club4 to deliver Dance led activity this summer.
We will be delivering high quality dance led holiday clubs at three different locations this summer:
Mon 24, Tue 25 & Wed 26 July – Lakeview Community Centre, GU21 3AG
Tues 1, Wed 2, Thus 3 August – The Maybury Centre, GU21 5HD
Wed 9, Thus 10, Fri 11 August – Horsell Village Hall, GU21 4SS
Wed 16*, Thus 17*, Fri 18** August – *Lakeview Community Centre, GU21 3AG, **Horsell Village Hall, GU21 4SS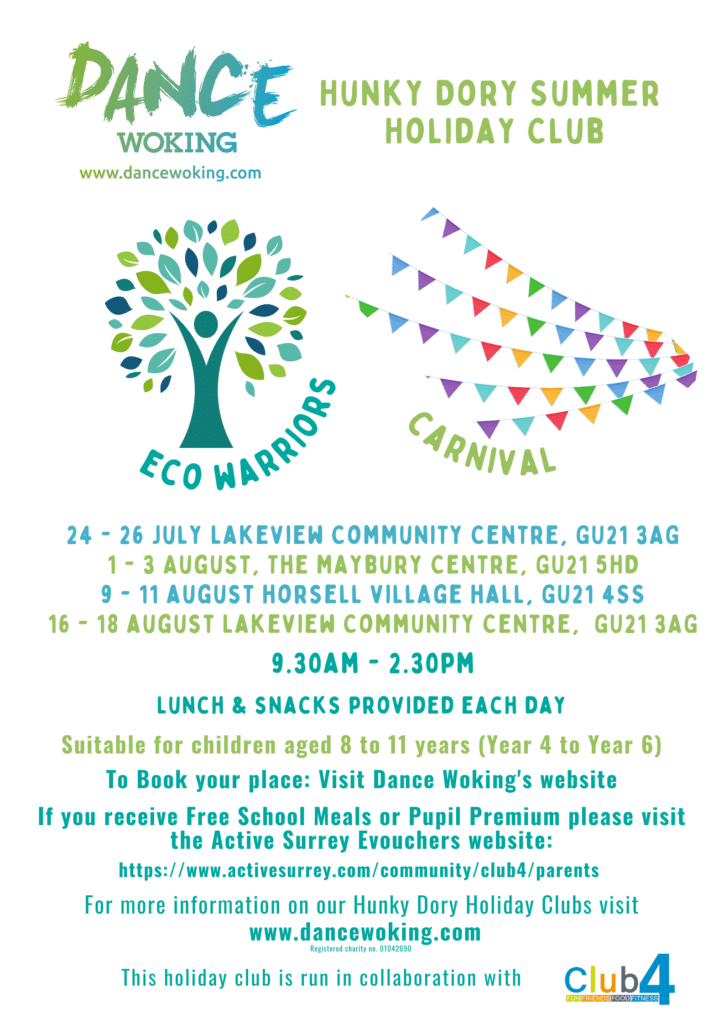 9.30am – 2.30pm
Suitable for ages: 8 to 11 Years (Primary School Years 4 to 6)
The Hunky-Dory Summer Club provides a great way for children to have fun, make new friends, eat well and get creative. Our experienced and friendly team will lead a range of activities including creative dance, arts and crafts. There will be a creative food session during the three days, wellbeing activities and lots of fun games. The club encourages children to find new ways of expressing themselves.
Lunch will be provided, you will be able to choose from a selected menu, special dietary requirements can be catered for.
For those on free school meals or pupil premium please visit the Active Surrey website: https://www.activesurrey.com/community/club4/parents
The club is open to all levels and abilities. Where applicable children will be split by age. If you have any questions on this holiday club and the activities, we will be providing please contact office@dancewoking.com
This programme is possible as a result of funding from Surrey County Council. Club4 is Surrey County Council's (SCC's) response to the government's Holiday Activities and Food initiative, designed to provide healthy meals, physical activity and enrichment opportunities to children and young people in receipt of free school meals during longer holidays. Co-ordinated by Active Surrey for SCC, free places will be provided during the Easter, Summer and Christmas holidays.