Dance Woking is currently recruiting Summer Holiday Assistants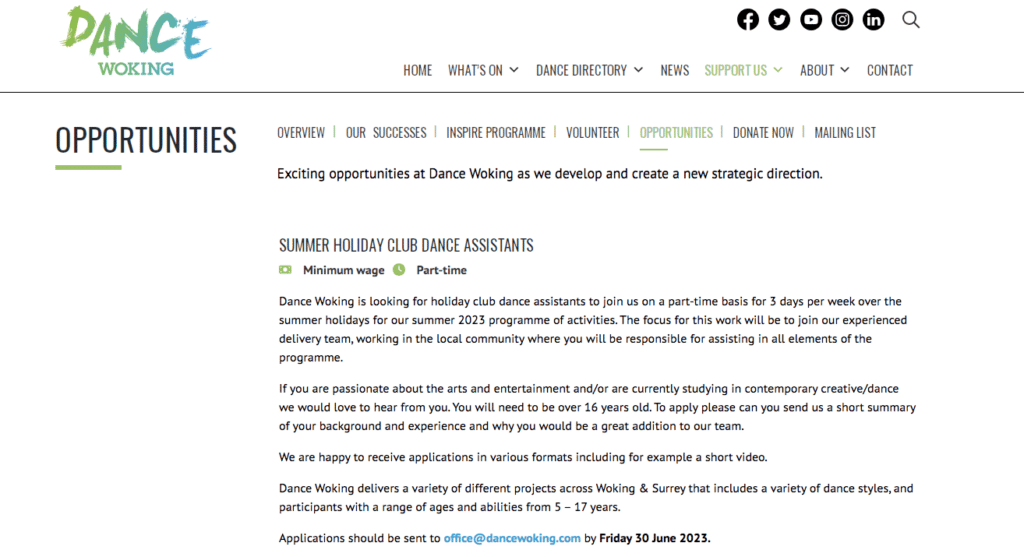 Dance Woking is looking for holiday club dance assistants to join us on a part-time basis for 3 days per week over the summer holidays for our summer 2023 programme of activities. The focus for this work will be to join our experienced delivery team, working in the local community where you will be responsible for assisting in all elements of the programme.
If you are passionate about the arts and entertainment and/or are currently studying in contemporary creative/dance we would love to hear from you. You will need to be over 16 years old. To apply please can you send us a short summary of your background and experience and why you would be a great addition to our team.
We are happy to receive applications in various formats including for example a short video.
Dance Woking delivers a variety of different projects across Woking & Surrey that includes a variety of dance styles, and participants with a range of ages and abilities from 5 – 17 years.
Applications should be sent to office@dancewoking.com by Friday 30 June 2023.