Rockin' All Over the Park!
#PITPWoking @celebratewoking Facebook: Party in the Park 2017
www.celebratewoking.info/partyinthepark
Time: 11.30am to 9pm
Date: Saturday 8 July 2017
Location: Woking Park
 Woking is celebrating its musical legacy by throwing a retro party, and everyone is invited!
Woking's Party in the Park 2017 will be 'Rockin' All Over the Park!' in tribute to The Jam and Rick Parfitt from Status Quo. Get into the groove with a swingin' 60s and psychedelic 70s theme and enough free entertainment to fill a pair of platform shoes!
From 11.30am to 9pm on Saturday 8 July 2017, families are invited to chill out at Woking Park. Dig out your tie-dye, fire up your flares, flick back your hair and get ready to indulge in a whole day of love, peace and rock 'n' roll at Woking's favourite summer party!
The 'Woodstock of Woking' offers something for everyone with Dance Woking curating dance, top acts on the Seymour's Main Stage, the Children's Zone, Freedom Leisure Sports Zone, shopping at the Chill Out Field and heaps more! The New Victoria Theatre Big Screen is back and this time it's bigger than Audrey Hepburn's beehive!
It will be groovier than a smoking hot lava lamp and cooler than a bowl of pink Angel Delight.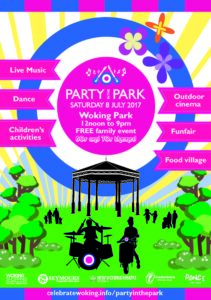 CLICK ON POSTER TO GET DANCE Schedule of HERE