In the lead up to the festive season, Dance Woking went back on tour with our Christmas Travelling Tea Dance.
Over 3 days, we toured residential homes in the local area, giving residents a chance to watch, interact and move with a little added festive spirit.
The event featured a mix of dance performances and participation opportunities, inspired by the festive season, including nods to The Nutcracker, The 12 days of Christmas and Winter warmers. Halfway through the sessions, tea and cake were served and allowed all participants to interact with each other.
Residents were thrilled to have the team visit again with some commenting "I am full of admiration for what you are doing. I've never seen anything like it in my life."  and another remarking "The dancers make it look easy, but all this movement takes a lot of effort. I feel like I have really worked and earned my cake!"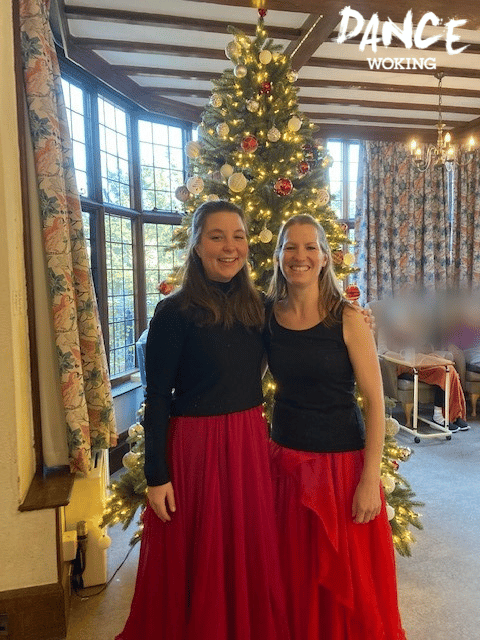 Ellie Dowling, Project Manager and Engagements Manager for Dance Woking said "The Travelling Tea Dances are a wonderful, essential provision that provide a different style of activity for Care Homes due to the interaction and participation involved. Care homes staff fed back that they often have musicians and singers come in – the residents listen and enjoy it – but the Travelling Tea dances encourage and stimulate memories, responses, laughter, bonding with fellow residents and in many cases, much needed communication and companionship. "
Thank you so much to the venues and residents that allowed our tour to visit them. We hope they all enjoyed it and can't wait to visit again soon.
---
We are now in the process of booking venues for out Spring Travelling Tea Dance Tour. If you are a local residential home or community centre that would like us to bring our tour to you this Spring, visit our Travelling Tea Dance Event page for more information or contact us.