Tuesday 19 & Wednesday 20 December
Lakeview Community Centre, Hartshill Walk, Horsell, Woking, GU21 3AG
Tuesday 19 & Wednesday 20 December
9.30am – 2.30pm
Lakeview Community Centre, Hartshill Walk, Horsell, Woking, GU21 3AG
Dance Woking's Christmas Club provides a great way for children to have fun, make new friends, eat well and get creative. Suitable for children in Primary years 4 to 6; aged 8 to 11 years
Our experienced and friendly team will lead a range of activities including creative dance, arts and crafts. We are excited to include within the club a performance of Roald Dahl and the Imagination Seekers by Get Lost & Found. A mischievous & inventive theatrical family show*. this is being held on Tuesday 19 December and can be now booked as a one-day club as we still have some spaces to fill.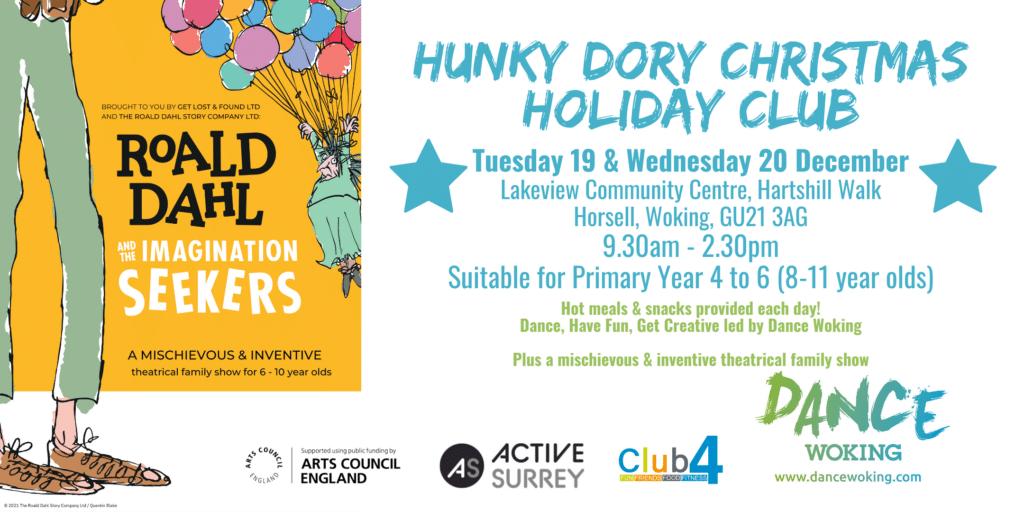 There will be a creative food session on Wednesday 20 December, wellbeing activities and lots of fun games. The club encourages children to find new ways of expressing themselves.
A hot lunch will be provided, you will be able to choose from a selected menu, special dietary requirements can be catered for.
The club is open to all dance levels and abilities. Where applicable children will be split by age. We have a safe and secure site suitable for children with additional needs and disabilities. Please provide as much detail as possible on your booking form so we can do our best to support your child at camp. e.g. hearing impairment, autism, mental health needs. If your child has a higher staff ratio support at school, please let us know so we can ensure we have the correct staffing ratios at camp. Unfortunately we are unable to provide 1 to 1 support or specialist support. We are not a specialist SEN provider.
If you have any questions on this holiday club and the activities, we will be providing please contact us by clicking HERE:
*About the show: All around the world Roald Dahl's words are disappearing, not only from books but children's minds too! Now only a secret organisation known as the Ancient Guild of Tale Tenders can save the stories – and they need your help….
Eventbrite Booking fees apply; E-voucher booking via Active Surrey Website